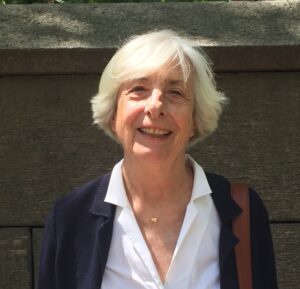 An internationally renowned classical archaeologist and art historian, Gloria Ferrari was born in Bologna and received her Laurea in Lettere Classiche at Università degli Studi di Roma and her Ph.D. in 1976 from the University of Cincinnati. She taught at Wilson College, Bryn Mawr College (where she was the Doreen Canaday Spitzer Professor of Classical Studies), the University of Chicago, and Harvard University, from which she retired in 2003. Her path-breaking scholarship was recognized for its exceptional brilliance, range, and originality by numerous fellowships and distinctions, including those from the American Academy in Rome; the Guggenheim Foundation; the National Humanities Center; the National Endowment for the Humanities; the Stanford Center for Advanced Study in the Behavioral Sciences; and the National Gallery of Art Center for Advanced Study in the Arts.
In 2003, Gloria was elected to the American Philosophical Society, which described her work in its tribute to her membership:
"Gloria Ferrari Pinney combines a deep knowledge of classical philology and keen artistic sensitivity with a penetrating critical acumen that allows her to reach unprecedented and often revolutionary conclusions about even well-known ancient monuments. Her pioneering study on the origin of Asiatic sarcophagi was in fact disregarded by scholars for almost twenty years until excavational finds confirmed her hypothesis. Within her great range, she is an expert in Greek vase painting, with emphasis on iconography, yet two of her recent publications – on the North metopes of the Parthenon (2000) and the architecture of the Archaic Akropolis (2002) – are among her most startling contributions. Although well versed in current art-historical and linguistic theory, she produces terse and concise analyses that carry conviction with their strict logic."
In 2004, she received the Archaeological Institute of America's Wiseman Book Award for Figures of Speech: Men and Maidens in Ancient Greece (Chicago: 2002); its citation reads, in part: "this fruitful interaction between…visual and textual evidence makes Gloria Ferrari Pinney's study truly interdisciplinary, and of importance to philologists as well as to archaeologists. Figures of Speech is provocative and thoughtful — its sophisticated approach to Greek culture and images should guide discussion in the future."
Enthusiastically committed to collaborative work, Gloria co-organized exhibitions with graduate students at the University of Chicago's Smart Museum and with Brunilde Ridgway at the Allentown Art Museum; collaborated on National Gallery dialogues and other projects with Gregory Nagy; co-authored articles with Richard Hamilton, Brunilde Ridgway, and Richard Stone; team-taught at the University of Chicago with Christopher Faraone and Laura Slatkin; and was for many years on the Editorial Advisory Board of Hesperia. She was a charter member and steadfast supporter of the New Alexandria Foundation.
After her retirement, Gloria continued to explore new areas of research, publishing such innovative works as Alcman and the Cosmos of Sparta (Chicago: 2008), which was praised by Leslie Kurke as "entirely original" and by Katerina Ladianou as "an important contribution to the study of ancient Greek choral poetry, archaeology, and art history"; in the words of Paul Cartledge, "it is itself a stunning performance and fully earns her a place among the constellation of super-star Sparta-watchers". Also after retiring, she published signal articles and book chapters on such subjects as the Nile mosaic at Praeneste; the metaphor of architectural space in the Greek sanctuary; anthropological approaches to the study of ancient Greek and Roman art; and metaphors of eros in Thucydides' History. In addition, she was named a Phi Beta Kappa Visiting Scholar in 2011-2012, as part of a program that "offers undergraduates the opportunity to spend time with some of America's most distinguished scholars", and lectured at universities across the country.
Gloria was an inspiring and dedicated teacher and mentor whose grateful students became her life-long friends. In honor of her 80th birthday, they organized a series of stimulating workshops that continued for two years. A volume of her selected papers, co-edited by Natasha Bershadsky, Hallie Franks, Guy Hedreen, Olga Levaniouk, Leonard Muellner, Gregory Nagy, and Laura Slatkin, will be published by Harvard University Press.
Gloria's brilliance was matched by her modesty; she was a model of intellectual generosity and integrity, and her loyalty, hospitality, warmth, humor, and democratic ethos brightened the lives of all who were fortunate enough to spend time with her. A deeply devoted daughter, mother, and grandmother, she was happily at home in New Jersey, to which she had moved after retirement to be near her daughter Antonia and family; at the same time, her attachment to her native Italy was unwavering.
— Laura M. Slatkin, Gallatin Distinguished Professor in Classical Studies, New York University; Visiting Professor, Committee on Social Thought, University of Chicago
---