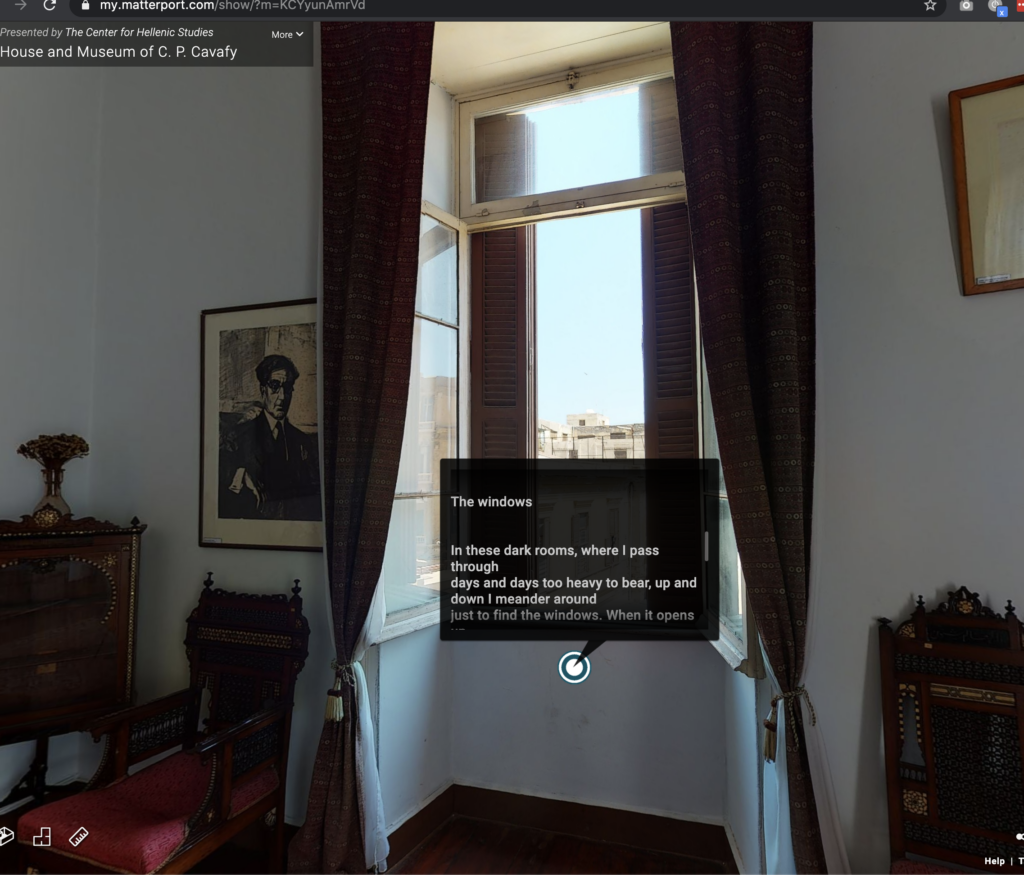 Notes by Gregory Nagy 2023.04.28
The outside glimpsed from the window pictured here as the cover for my notes is the metropolis of Alexandria in today's Egypt. The interior from which this exterior is viewed happens to be the apartment where C. P. Cavafy (1863–1883) once lived. And the window here happens to be looking out toward the general direction of the ancient Library of Alexandria, the ruins of which are no longer even to be found. In November 1999, I visited his apartment, nowadays a museum of memorabilia, and I looked out through its windows. To look out from there evokes a poem by Cavafy where the poet's voice expresses a longing to look out from the windows of dark rooms.  I share here the words of that poem, adding my working translation.
ΤΑ ΠΑΡΑΘΥΡΑ [1897, 1903]
Σ' αυτές τες σκοτεινές κάμαρες, που περνώ
μέρες βαρυές, επάνω κάτω τριγυρνώ
για νάβρω τα παράθυρα.— Όταν ανοίξει
ένα παράθυρο θάναι παρηγορία.—
Μα τα παράθυρα δεν βρίσκονται, ή δεν μπορώ
να τάβρω. Και καλλίτερα ίσως να μην τα βρω.
Ίσως το φως θάναι μια νέα τυραννία.
Ποιος ξέρει τι καινούρια πράγματα θα δείξει.
(Από τα Ποιήματα 1897-1933, Ίκαρος 1984)
Here is my working translation:
The windows
In these dark rooms, where I pass through
days and days too heavy to bear, up and down I meander around
just to find the windows. When it opens up,
one of the windows, it will be such an easing of the heaviness.
But the windows are not to be found – or at least I cannot
find them. And it is better, maybe, that I cannot find them.
Maybe the light will be some other form of torment.
Who knows what sorts of new things, troubling, it will reveal.
---